Millennials Start Israel Pride Clothing Company
Tags: Israel, Causes, Zionism, Activism, Am Yisrael, Community,Donate/Campaign, Hasbara, Startup
The Co-Founders of One948: Israel-themed Apparel are motivated to fund their recently-launched Kickstarter campaign. More than selling their apparel, what drives them most is the cause behind their innovative screen-printed designs and signature Israel Pocket Tee. At 27 and 28 years old, respectively, Brian Horowitz and Matt Stahm have begun to understand what the 'older' generations see amongst millennials, college, and high school students: some are losing their Jewish identity and because of this, their connection to Israel.
Brian and Matt's connection to Israel began in their youth, as both attended Jewish Day Schools in Cleveland. Brian attended Agnon (now Mandel Jewish Day School) while Matt attended Gross Schechter Day School. Matt's middle school education at Schechter culminated with an unforgettable 8th grade trip to Israel.
Brian has been to Israel twice--a family trip in high school and a Taglit Birthright trip in college. Both trips had major impacts on Brian's life. "It's that indescribable feeling that you get when you touch down in Israel. Both times I was there, it felt like the most spiritual experiences of my life."
Matt has been to Israel a total of four times. He lived in Israel for over a year after extending his Onward Career Israel program. The two reconnected at a bachelor party in September 2015 and after seeing Brian's uniquely-shaped pocket shirt, Matt exclaimed, "It would be really cool if that pocket was in the shape of Israel".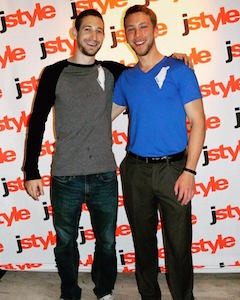 One948's mission, which is named after the year Israel was established, is two-fold:
Unite Israel supporters worldwide through comfortable and fashionable apparel
Promote Israel in a positive and factual light
We now live in a world where the majority of the media is so blatantly against Israel, where newspaper columnists and on-air journalists intentionally spin stories to make Israel look bad, and where the BDS movement grows louder and louder every day. The causes, organizations, and businesses that support Israel and promote her in a positive light, and in a factual light, need to be heard and seen now more than ever. One948 wants to be another outlet for those that unequivocally stand with Israel.
One948 is a for-profit business, however, philanthropy and giving back is a big component to the One948 concept--once their online store has launched post-Kickstarter, they will begin donating 10% of their profits towards non-profit organizations that support Israel, starting with Friends of the Israel Defense Forces (FIDF), American Friends of Magen David Adom, and Hope for Sderot. Giving back to Israel has been important to Matt ever since he had his Bar Mitzvah; he chose to donate all the money he received as Bar Mitzvah gifts directly to FIDF.
Hope for Sderot is a small, lesser-known non-profit organization based in Israel. Its mission is to aid the victims or terrorist attacks in rocket-laden Sderot, the city adjacent to Gaza in Israel. Matt was personally affected by rocket attacks during his Onward Career Israel program. He was on a beach in Tel Aviv enjoying a beautiful day with friends, when all of sudden they heard the rocket sirens. A live news broadcast, which was later uploaded here to YouTube, captures Matt and his friends running off the beach to seek shelter (you can see Matt in the background at the 11-second mark). Matt describes this experience as he recalls it: 
I knew exactly what that sound was when I heard it, because it was not the first time I heard the siren. The first time, I was with my friends outside near our living quarters, and were immediately told what the siren was for and that we needed to take cover. On the beach, about a month later, I heard the siren a total of three times. I wasn't scared when I heard it this time around. I was comforted by the people around me. You can't let terrorists change your lifestyle. After the Iron Dome intercepted the rocket and the explosion happened, life went back to normal almost immediately. Kids went back to play. It's an experience that you don't want have, but I was glad I was able to experience it. The citizens of Sderot have less time to run for cover than I did whenever I heard the sirens go off. Because Sderot is so close to Gaza, where a lot of the rockets are launched from, the city gets showered with them. I wanted to figure out a way to help Sderot, and hopefully through One948 I can.
Brian and Matt are following some advice that the 'older' generation seems to tout whenever they can: do something you are passionate about. They have combined their shared passion for Israel and entrepreneurship into One948. But more than selling Israel-themed clothing, it is the cause behind the clothes that makes One948 special. 
Time to 'Party Like It's 1948'
Jewish entrepreneurs launch Israel-themed apparel company One948
Kristen Mott - Staff Reporter October 24, 2016
Two local entrepreneurs have combined their love for Israel and the Cleveland Indians to create a graphic design T-shirt ahead of the World Series.
Brian Horowitz, 27, of downtown Cleveland, and Matt Stahm, 28, of Beachwood, founded One948, an Israel-themed apparel company, about a year ago after they ran into each other at a bachelor party for a mutual friend that year. At the party, Horowitz was wearing a shirt that had a pocket on it in the shape of Ohio.
"Matt saw me wearing it and the first thing he said to me was, 'It would be really cool if that was in the shape of Israel.' And I said, 'Yeah, that would be really cool.'"
A week later, Horowitz was sitting inside Stahm's house and the two created a business model to develop a line of tees with pockets in the shape of Israel. Their idea has morphed to include additional graphic tees and other apparel.
Their latest design is a T-shirt with the phrase "Party Like It's 1948." The shirt has a dual meaning. The state of Israel was founded that year and it's also the last time the Indians won the World Series.
Horowitz and Stahm are in the midst of finishing a Kickstarter campaign online. Their goal was to raise $18,000 to invest in inventory and accept pre-orders for their products.
Their next step is to set up an online store on their website, One948.com, allowing shoppers to purchase apparel directly from the site.
Ten percent of the company's profits will go toward nonprofits that support Israel.
Horowitz said he feels the company stands apart from other Cleveland-based apparel companies.
"We don't feel that the Cleveland clothing companies are competition for us," said Horowitz, a member of Congregation Shaarey Tikvah in Beachwood. "They're competition only in the sense that they're clothing companies. There are all these Cleveland pride companies in Northeast Ohio, but we want to be an Israel and Jewish pride clothing company for everyone in the world."
Stahm, a member of B'nai Jeshurun Congregation in Pepper Pike, started designing T-shirts in high school He now creates each One948 tee design using Photoshop. He said he has enjoyed networking and having the chance to meet community leaders.
For Horowitz, he said one of the most surprising – yet positive – aspects of creating this company has been the close friendship that's developed between the pair.
"Matt and I grew up together, but we were never really that close," Horowitz said. "One of the most fascinating things has been the working relationship and friendship that has been established between me and Matt. We work very well together, we're respectful of one another and we hardly have arguments, which is rare. We're trying to take advantage of that chemistry."